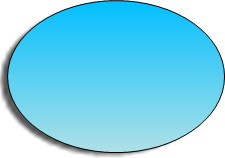 To Order - Phone: (773) 472-2395
WWW.VITAL-NUTRIENTS.COM
This website collects absolutely NO user information for any reason whatsoever. We only use personal phone contact when you call.
Curaphen®
Contains Super-Absorption Curcumin
called BCM-95®
BCM-95
®
has been proven in published clinical studies to provide consistent and long-lasting antioxinant effects. The impact of BosPure
®
Boswellia is enhanced by reducing beta-boswellic acid and providing naturally higher levels of AKBA. DLPA may support healthy activity of endorphins and enkephalins, and nattokinase helps healthy circulation - an important feature for proper nutrient delivery and effectiveness.*
Curaphen contains a super-absorption curcumin called BCM-95® that is significantly better absorbed than plain curcumin products.
BCM-95® Curcumin-Clinically Proven
Curcumin (Curcuma longa), a compound found in the spice turmeric, is a potent antioxidant. Benefits associated with curcumin include: immune system support, protection from oxidative stress, and natural pain relief.*†
Curaphen
®
uses BCM-95
®
Curcumin, which has up to 10 times greater absorption than standard curcumin, providing you with maximum benefits.
BosPure® Standardized Boswellia Extract - Clinically Studied
The BosPure
®
Boswellia (Boswellia serrata) extract in Curaphen
®
is standardized at 70% total organic and boswellic acids and contains >10% AKBA, which leading scientists identified as the most significant contributor. The less desirable β-boswellic acid can potentially promote inflammation. That is why BosPure
®
is screened for this compound that can interfere with beneficial activity, and includes only those (specifically acetyl-11-keto-β-boswellic acid) that greatly increase the effectiveness of the extract. Based on purity and standardization, BosPure
®
Boswellia is up to 10 times stronger than unstandardized boswellia.

Contains No: sugar, salt, yeast, wheat, gluten, corn, dairy products, artificial coloring, artificial flavoring, or artificial preservatives. Color variations are normal.
BCM-95
®
AND BOSPURE
®
ARE REGISTERED TRADEMARKS OF
DOLCAS-BIOTECH.
EUROMEDICA IS A MEMBER OF THE EUROPHARMA, INC.
SCIENTIFIC ADVISORY BOARD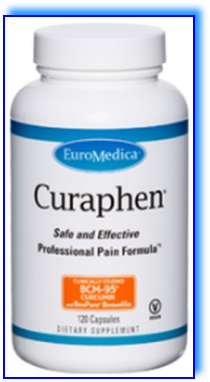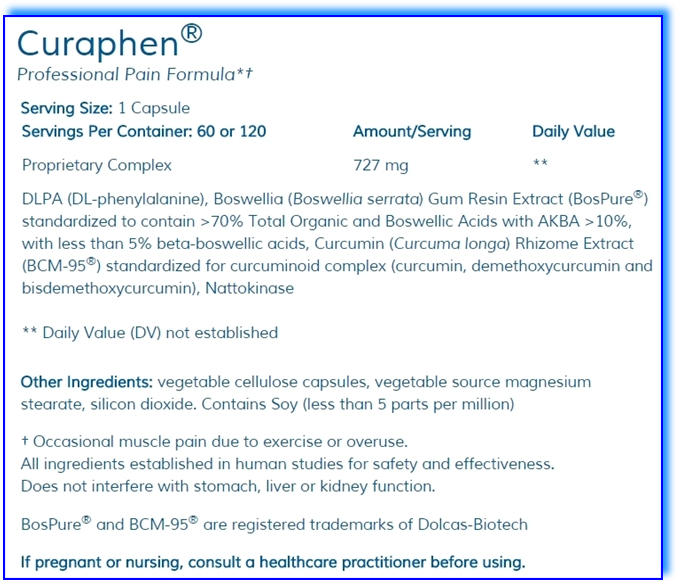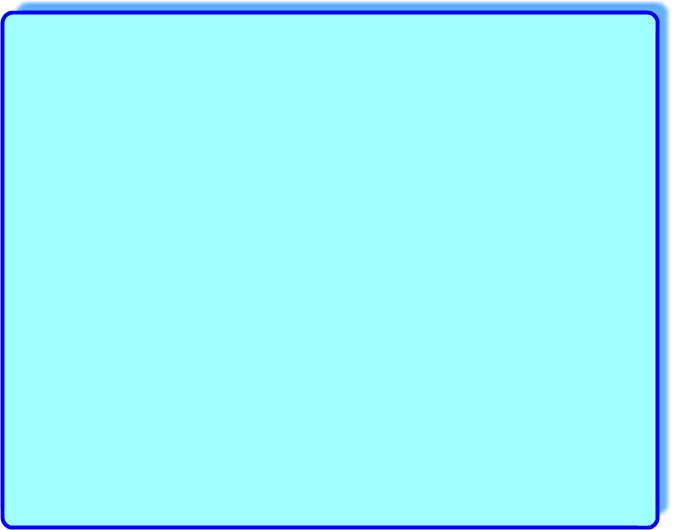 Once again, on any product that I carry, I will do my best to go
beyond my regular customer discount and meet any
bona fide price advertised on the Internet.

For reasons stated earlier, I do not correspond by email.
For more information or to place an order, please call me at:
The products presented on this website are dietary food supplements,
not medicines. No curative claims are made.
The statements on this website have not been evaluated by the FDA.
ALL PRODUCTS and PRODUCT NAMES on this website are
copyrighted, registered, or trademarked by the manufacturing company.
-Ron Pellegrini
(773)472-2395
Thank you,
Copyright 1999-2015 by Ron Pellegrini. All rights reserved.
Last modified June, 2015.
But please be sure to have first read my HOME PAGE.



Alphabetical Product Menu